Reftab is excited to announce one of our biggest updates yet! We've heard a lot of feedback from you and after many emails, tickets and Zoom calls, we're incredibly happy to announce that approval flows are now available!
Approval Flows
How-to guide: Start creating approval flows today with our guide:  Reftab guide to approval flows
In one of our biggest updates yet, Approval Flows bring you an easy and automated way to route requests for equipment to managers, department heads, safety coordinators, etc. in a simple way.
For example, if a user wants a specific software license that  requires approval from IT or their manager before being purchased or installed, or employees or contractors need safety training before using specific tools, you can send an email to an "Approver" for them to review.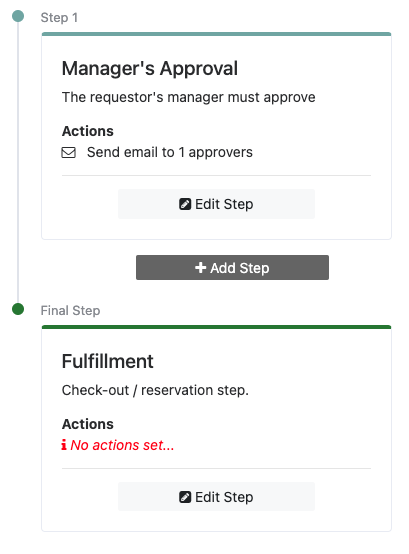 The "Approver" can approve or reject directly from within the body of the email. This is incredibly important because by using email – a system everyone is used to, and uses all day, approvers can review and approve requests without  needing to login to any new system. It can be adopted by every department and any user with minimal effort.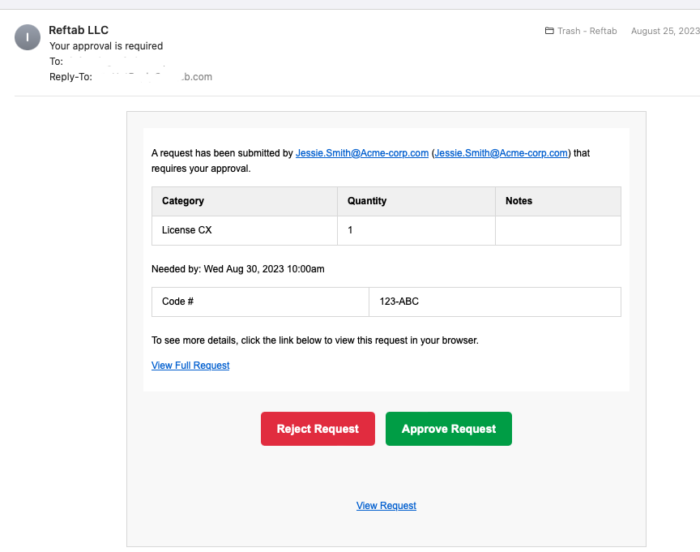 This is our first iteration of approval flows. We plan to issue updates and enhancements in the coming months. We really want to hear from as many as you as possible about how approval flows can solve your business challenges.
Video: Click to view video on YouTube
New Integrations: Meraki and Jamf School
For users on the Business plan, you can now configure a connection to sync assets from Cisco Meraki, which is a cloud controlled, wifi, routing and security system for enterprise networks. This integration is great because if you have WiFi access points or other networking equipment across various locations, this integration automatically adds those devices into Reftab. By doing so, you'll have even more ways to automate data into Reftab for reporting, automated alerts, maintenance etc.
How-to guide:  Reftab Meraki integration guide
You also can sync devices from Jamf School. Jamf Schools works in the same way as our existing Jamf integration works, however Jamf school is specifically for education institutions.
How-to guide: Reftab Jamf School integration guide
Gantt Charts
Reftab now offers Gantt charts to users on all plans. Gantt charts give you a great visualization of items in a list and can compare events easily to better understand usage and scheduling.
To view your Gantt chart, anywhere you see the calendar page, you can click "Gantt" and the gantt chart will display.
Updates to Users / Loanees
1) ICS Calendar Feed: For each loanee / user in Reftab you can now generate an ICS calendar feed. This creates a link that you can paste into your local Outlook calendar or GMail calendar so that when an item is reserved for a user, that event will be automatically sent to your calendar. By setting this up, you wont need to login to Reftab to view these events.
Edit any user and enable "ICS Reservation Link"
Then, click "Save". A link will display for you to copy and use within Outlook, Mac Calendar, GMail, etc.

2) Dynamic Manager Field: This allows you to link a user to another user to establish a 'manager' or 'supervisor'. See our how-to guide: ​Guide to configuring manager field in Reftab​​​
The benefits of setting up a managerial custom field is because they can be used in Workflows and Approvals.  For example, sending an overdue email to a manager or routing approval steps to a manager or safety supervisor.
3) SCIM Custom Field Mapping: You can now sync custom user fields from your IdP such as Azure, okta, JumpCloud etc. Prior to this update you could only sync a name, title, email address and employee number. We recognized that was very limiting, especially with the need for detailed reporting and workflows. To map these fields click "Settings" > "Integrations" > "SCIM UserProvisioning" and you'll see,"Optional Custom Fields"
New YouTube Video:
Check out our new feature highlight video on Reftab's e-signature functionality. Please share, like comment and let us know what you think!YouTube Video: Reftab's E-Signature Functionality